Below is a list of our Oral Care Products commonly used in Hospitals and other healthcare environments.
Suction Toothbrush
This is an easy to use toothbrush that provides very effective oral care while removing debris via suction action. It is very effective for ICU and HDU departments.
Super-soft toothbrush and sponge treated with dentifrice allow mechanical debridement and stimulation of the teeth and gums. Suction allows removal of secretions.
Packaging: x100 units per case (individually wrapped)
Product Code: MDS096575EU
Dentip Treated Swabs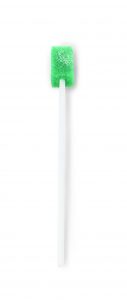 Dentips Swabs are used for cleaning the entire mouth. There are two types, treated (with a Dentifrice for oral cleansing) and untreated.
These Swabs are strong yet effective and have serrated edges for increased oral cleansing. They also have longer handles for ease of use. The handle is made of high impact Polystyrene while the Foam Head is made from Polyester Polyurethane.
Packaging: x500 per case (individually wrapped)
Product Code: MDS096502EU
Oral Care Pack (Standard)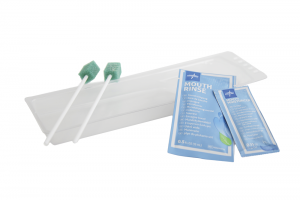 Each Kit contains:
Two DenTips Oral swabs impregnated with dentifrice
One Mouth Rinse, packet of 15mL (to pour into cup) – Alcohol-free.
One Mouth Moisturizer, packet of 3g (to apply with swab) *
Packaging:
Product code: 
Suction Swab


This product is very effective when used between tooth-brushing to gently scrub and remove build-up from the tissue lining the oral cavity. Also treated with Dentifrice.